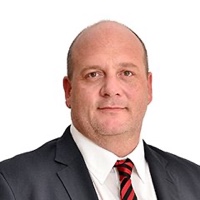 Bennie Crous
Senior Portfolio Manager
Bennie is a senior portfolio manager at Momentum Investment Consulting (MIC) and focuses on creating and managing bespoke retail investment portfolios for large retail brokers and agents. He has a broad range of experience, spanning investment consulting, portfolio management, annuity products, guaranteed and structured products, product development, client servicing and actuarial services, which he gained at MIC, Momentum Manager of Managers, Momentum Specialised Insurance and Alexander Forbes.
Qualifications

BCom (Insurance Science)
CFA charter holder
Industry experience
22
years
Hobbies
Travelling.
Spending time with family and friends.
Favourite movies
The Big Short, 2015.
Margin Call 2011.
The Wolf of Wall Street, 2013.
Favourite quote
"It is better to retain clients than to get new clients – my version of something I heard Hillie Meyer say in the 90's, which resonates with our daily practice at MIC."
Strategic and markets considerations
The definition of risk that I ascribe to is the probability of failing to meet clients' needs or expectations. As custodians of clients' wealth and savings, this should always be front of mind. Practically speaking, this means using your investment skills, knowledge and experience to navigate complex investment markets in a way that gives clients the best possible chance of achieving their investment goals.