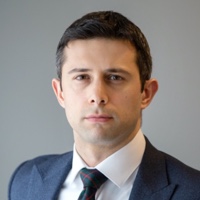 Robert White
Portfolio Manager

Multi-asset | Global Equity
Robert joined Momentum Global Investment Management (MGIM) in 2019 as a Senior Investment Analyst and has since been promoted to Portfolio Manager. His previous role was at GAM Investments where he was a Senior Investment Analyst in the Investment Solutions business with coverage across multiple asset classes, predominantly in Emerging Markets and Asia. He has expertise across both alternative and traditional assets, helping to manage both Fund of Fund and Fund of Hedge Fund portfolios. Prior to GAM, he was part of the investment team at GHC Capital Markets, managing risk graded portfolios for a diverse range of clients and financial advisers.
Qualifications

BA (hons) in Politics and Philosophy, University of York

Chartered Financial Analyst, CFA Institute

CISI Certificate in Investment Management
Industry experience
10
years
Hobbies
Music (playing drums and piano)
Favourite TV series / movie
Breaking Bad
Shawshank Redemption
Favourite quote
"In the beginning the Universe was created. This has made a lot of people very angry and been widely regarded as a bad move." - Douglas Adams
Strategic and markets considerations
As multi-asset investors with a global reach, we have a huge opportunity set from which to pick investments for our funds. Successful multi-asset investing requires an appreciation of economies, the companies that operate within them, and market dynamics. Taking these into account, we seek to add value through strategic and tactical asset allocation, as well as manager selection as we believe there is no single manager that can adequately access the variety of opportunities on offer.

From an equity perspective, we blend investment styles to generate excess returns whilst making the investment journey more palatable for our clients, and we use high conviction strategies run by specialist third party managers within our portfolio construction process.