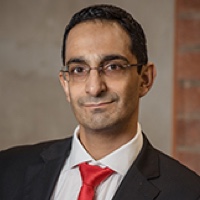 Imtiaz Mohammed Alli
Fund Manager for Absolute Return, Index-tracker and Smart Beta Investments
Imtiaz started his financial services career in 1996 at Absa Consultants & Actuaries. In 2000 he joined Momentum Investments in our platform business, Momentum Wealth, as a unit trust dealer.

He later moved into the investment management team in 2004 where he co-managed various investment funds. In 2008, the role expanded to include the absolute return funds and from 2011 the index-tracker and smart beta funds were also included, which he co-manages with Loftie Botha.
Industry experience
16
years
Hobbies
Reading business literature.
Sport.
Favourite book
Steve Jobs by Walter Isaacson.
Favourite quote
"The greatest glory in living lies not in never falling, but in rising every time we fall." - Nelson Mandela
Strategic and markets considerations
We follow a different investment process with each of the funds we manage. Consistent themes that are common across our funds are that they are quant driven while we are aware of fundamentals, they follow a simple and systematic investment process, they are cost efficient and managed by an experienced, stable and focused team.