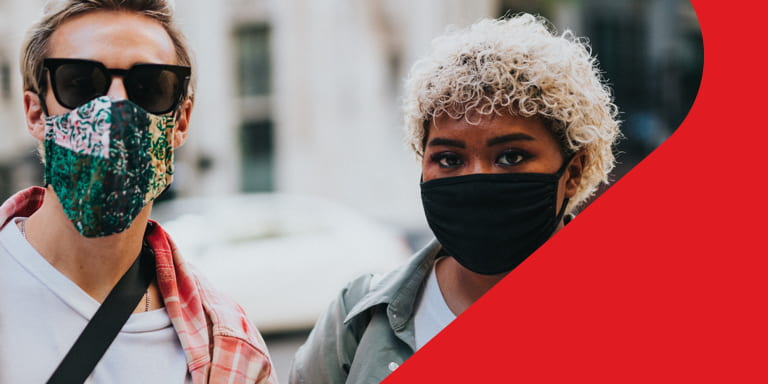 IMPACT OF Covid-19
The financial impact of Covid-19 and lockdown
The Momentum Unisa Financial Wellness Insights 2019 report (pdf) confirmed that South African housholds, and their success, were, in one way or another, impacted by Covid-19 and the lockdown. Households had to re-look their finances in a whole new light and made different plans to deal with the impact, changing the way they spend, save and borrow money.

Keeping our distance has enabled us to see the world from a new angle. We've unmasked a different mindset to experience life from each other's viewpoint. Now is the time to introduce a fresh financial perspective.

Did you know?
The total household income loss for the year is estimated at R331.9 billion. The largest portion of the loss (27.9%) was incurred by the realised middle-income households who earned between R40 000 and R83 000 per month (8.6% of households). However, the rich households were proportionally hardest hit as they incurred 20.6% of the loss, although constituting only 1% of households.

People who needed financial help from families or friends:


Changed their spending behaviour
Reviewed their financial management and goals

People who experienced a loss or reduction of income:


Changed their spending behaviour
Reviewed their financial and debt management
Household insights from the latest report
Momentum and Unisa constructed a household model to measure the impact of Covid-19 and the lockdown on households' income and net wealth. The model measured two scenarios, namely what the income and net wealth would have been without Covid-19 and the lockdown; and what it is estimated to be with Covid-19 and the lockdown. The results were compared to determine the impact on household income and net wealth and to identify the household income groups that were hardest hit.

The models showed that the Coronavirus and lockdown did not discriminate between income, education, employment, gender or age groups. Every household lost in some or other way, even those households who thought they were not affected e.g. their income might have remained the same or increased, but the value of their property increased slower.
Tips from our research respondents
"My situation was bad before Covid-19 and my lack of preparedness has made it worse. Covid-19 is the rainy day that everyone has been warning us about."
"Financial planning for the current day is just as important as planning for the future."

Out of necessity, households had to see things differently - see things in a whole new light. This year, Momentum Science of Success will be focusing on you seeing your finances in a whole new light - with new angles to smart money management for every South African home.
JOIN THE CONVERSATION TO SEE THE BIGGER PICTURE
#SuccessIsAScience
Explore more Momentum Unisa Household Financial Wellness Insights