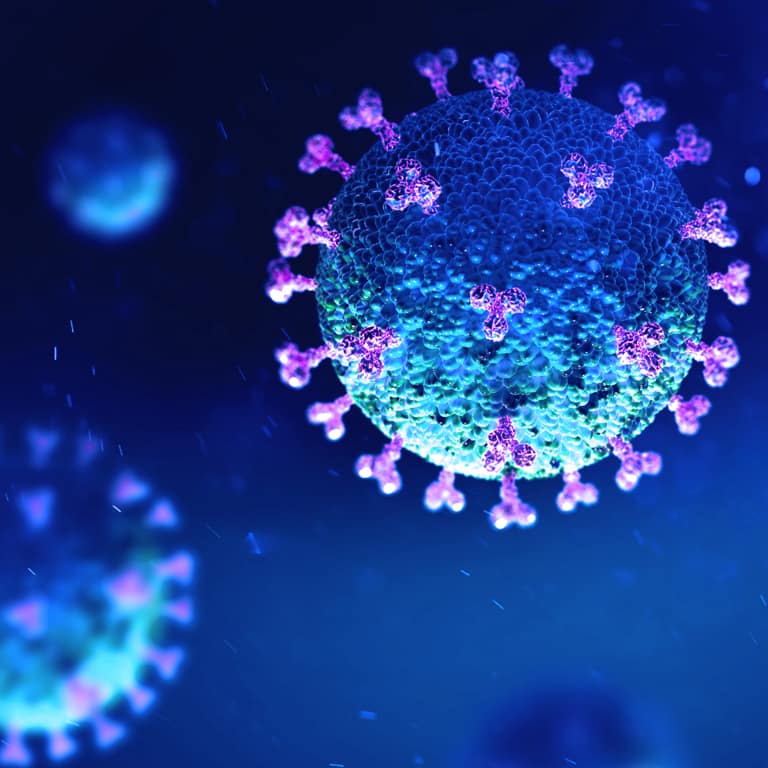 COVID-19:
All you need
to know
Momentum Medical Scheme covers the costs for COVID-19 testing (both positive and negative results) and will pay for treatment if your test turns out positive, no matter which option you are on. This includes both in-and-out of hospital treatment, provided you obtain authorisation. For a quick and easy COVID-19 reference and our contact information, here is a COVID-19 pocket guideopen_in_new.

WhatsApp us
Email us: [email protected]
What are the symptoms of COVID-19?
Symptoms vary from person to person, but the most common symptoms are:
A fever of more than 38˚C or a recent history of fever
A sore throat
A cough
Shortness of breath or any other breathing difficulties
Any loss in sense of smell or alteration in sense of taste
If you have been in contact with a person who was later found to have COVID-19, it is important that you monitor your symptoms, self-isolate and immediately contact your doctor if you experience any of the symptoms mentioned above.
What are the criteria for COVID-19 testing?
To get tested for COVID-19, you need to get a referral from your doctor after they have assessed your risk and established necessary cause for you to undergo testing.
What should I do if I suspect I may have contracted COVID-19?
If you are worried that you may have contracted the virus, call your doctor or get in touch with a doctor through our Hello Doctor platform. Alternatively, contact the NICD to discuss your symptoms.

Hello Doctor: USSD *120*1019# (standard rates apply) or request a call through the Momentum App or Hello Doctor App.

NICD COVID-19 hotline number: 0800 029 999

NICD COVID-19 WhatsApp number: 0600 12 3456

Your doctor will screen you to assess the need for COVID-19 testing and provide you with a referral letter if you need to go for a test. In the meantime, maintain a safe distance from loved ones until you have been cleared.

If your doctor refers you for a test, you need to do 2 things:
Get pre-authorisation from your medical aid. You can now get pre-authorisation for the COVID-19 test on WhatsApp.
Contact your nearest pathology laboratory to book an appointment at one of their testing centres. Not all laboratories provide COVID-19 tests, so it's important to contact them first or check their websites for a list of their testing centres.
Take a look at this step-by-step guide
.
What is Long COVID-19?
Long COVID-19 is generally defined as COVID‐19-related symptoms that are present for 28 days or more after the onset of acute COVID‐19 infection. It remains unclear why some patients experience prolonged recovery. Many patients recover spontaneously with holistic support, rest, symptomatic treatment, and a gradual increase in activity.
What are some of the symptoms of Long COVID-19?
The most common clinical features reported in Long COVID-19, present in at least 50% of patients, are:
Fatigue 
Anosmia (Loss of sense of smell)
Myalgia (Pain in the muscles)
Persistent cough
Fever
Headaches
Anxiety
When should I seek medical assistance?
If your symptoms don't resolve within 6 to 8 weeks after your COVID-19 diagnosis, please contact your GP or healthcare practitioner.
What type of test is my healthcare practitioner likely to request?
From what we have seen thus far, your healthcare practitioner may want you to go for follow-up testing or examinations, depending on how you are coping with the symptoms or the severity of illness upon diagnosis. Examples of these investigations include:
Blood tests
Chest x-rays
Electrocardiogram (ECG)
Lung function tests
Scans
How is COVID-19 treated?
If complications arise, these will be assessed and treated as indicated by your healthcare practitioner. The Scheme has developed a basket of care, which begins with an assessment and management by your GP who can then escalate care to a specialist, if required.
How do I register for Long COVID-19 treatment?
Your treating doctor needs to complete the Long COVID-19 treatment request form and send it to us via email at [email protected].
What can I do to protect myself from contracting COVID-19?
There are measures you can take to increase your safety and that of loved ones. Follow all safety protocols as outlined by the World Health Organisation (WHO). These include maintaining a safe distance (at least 1 metre) from the next individual, wearing a cloth mask, washing your hands regularly with soap and water or sanitising with an alcohol-based sanitiser if soap and water are not readily available.
Who is at risk of becoming excessively ill through COVID-19?
Although COVID-19 is a danger to everyone, research suggests that the groups that are most at risk of contracting COVID-19 are persons over the age of 60, those with underlying conditions, such as high blood pressure, cardiovascular disease, HIV and diabetes, as well as obese individuals. It is important to note that not everyone is aware that they or a loved one may have an underlying condition, it is therefore important to always remain cautious.
Will my COVID-19 test be covered in full by the Scheme?
Whether your test is positive or negative for COVID-19, tests will be paid by the Scheme, provided:
You meet the criteria for COVID-19 screening.
You were referred for testing by a registered healthcare practitioner.
The test is conducted by a registered pathology laboratory (per NICD guidelines).
You have contacted us for an authorisation.
If the above criteria are met, the test will be authorised for payment from Scheme benefits. If the above criteria are not met, the test will be payable from your Savings or HealthSaver+, if available.

Please make sure you obtain a detailed invoice for the test, not just a receipt. The Scheme will need this to process your claim.
Which benefit is my test paid from?
Pathology laboratory claims for positive COVID-19 tests will be paid from the Scheme's Major Medical Benefits as a Prescribed Minimum Benefit if authorised.
How do I obtain authorisation?
Once you receive your referral letter from your treating healthcare provider, you can contact us to obtain authorisation by sending us a WhatsApp on 0860 117 859, emailing us at [email protected] or calling us on 0860 11 78 59.
What information will the Scheme need from me to process my authorisation?
You will need to provide your name, membership number, your treating healthcare provider's practice number, the practice number of the pathology laboratory you have been referred to and you will need to confirm that you have been experiencing symptoms and have been in close contact with a person known to be infected with COVID-19.
What should I do if one of my family members/dependants need to get tested?
If your family members or dependants are covered under your membership, then the same authorisation procedure applies to them (detailed in previous questions above). They will first need to obtain a doctor's referral to undergo testing and obtain authorisation from the Scheme to have their test covered
My claim for COVID-19 testing was not paid, who can I talk to regarding this?
Email the detailed invoice to our claims department at [email protected].

Please make sure you send a detailed invoice for the test, not just a receipt, as the Scheme will need this to process your claim.

If you have sent the detailed invoice and your claim was not paid, you are welcome to send us a WhatsApp on 0860 117 859, email us at [email protected] or call us on 0860 11 78 59 for us to investigate and provide feedback.
Will the Scheme pay for all my medication, including over-the-counter pills and vitamins?
The Scheme will cover all prescribed treatment and medication. Any other medicines and vitamins will be paid from available Savings or your HealthSaver+ account if you have funds available.
How can I lower my risk of getting sick?
To avoid contracting COVID-19, abide by all the safety protocols at home, work and school and be sure to seek medical advice should you feel unwell.
What can employers do to ensure a safe working space for employees?
Employers should implement all safety guidelines for employees returning to work, particularly in line with risk assessment and screening processes.
When is it safe for me and my family members to return to work or school, after testing positive for COVID-19?
Guidelines indicate that if you have no symptoms after 7 days of being confirmed as positive, it is safe for you to return to work or school. You can still be infectious at this time, so it is important to abide by all safety guidelines for interaction.
Can I get re-infected, and will the Scheme cover the costs for additional testing?
Yes, you can get re-infected with COVID-19, so it is important to continue to follow the necessary steps to keep yourself and loved ones safe. If you or any of your dependants need to get tested again, you should follow the same process to obtain a doctor's referral and authorisation from the Scheme.

There is no restriction on the maximum number of tests covered, provided the Scheme has authorised the tests.
What other benefits are available to me during this time?
COVID-19 is transmitted from one individual to another the same way the normal flu is transmitted. It is therefore recommended that you get vaccinated against the normal flu virus as a measure of precaution. It is advisable to do this as a family. Momentum Medical Scheme covers annual flu vaccinations from the Health Platform Benefit for children between the ages of 6 months and 5 years, beneficiaries who are 60 and older, as well as high-risk beneficiaries. This is also a good time to ensure that you are up to date with your annual health assessment to ensure that you do not have an underlying condition that may further increase your risk for contracting COVID-19.